Uncategorized
September 15th, 2010
And here is the second chapter of Devi Navi, an excellent hentai manga by Abe Norioka, translated by Desu, commissioned by me
When I can read such FAPTASTIC translated hentai, I lose all regrets I'm bothering you with advertisements, it's what money is about, it always end up with porn one way or another
This second chapter might be my most favorite in the whole book. It contains a rib-nuking sentai parody (HENSHIN ! – and read this, followed by that, if you didn't know the term), a villain that is far too sympathetic for my own good and for me to hate him (I think I'd be far worse, if I were in his position
), it also contains 3 very cute girls (one young teacher, one typical brune high schooler girl, and a tanned blonde kogal, student too).
This is hilarious, the scenario brings a great value added to already great sex

The sex, BTW. Almost uncensored, 100% happy NO mind-break (better precise it), all holes.
By the same artist, I also share the decensored version of Shake Hip, and if you managed to miss it, take a look at Shining Musume Volume 6, Devi Navi contains a trace of the same spirit…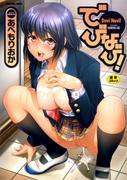 (HNGH!, the middle picture, could ANYONE not chose the smiling meganekko on the left ? :3)
Open the Complete Pictures Gallery (or the backup gallery)
Download the Free Hentai Manga in a Zip file
(35 MB, 75 pictures, English)
(please, is there a chance you can use the depositfiles link ? That will generate a tiny bonus for me, thank you very much if that's possible for you ! )
Or you can also use the Alternative :
Zip Mirror #1 – or – Zip Mirror #2
(In the zip links above, I share the chapters 1 and 2 together, even though I had previously made a first post with just the chapter 1. – I believe that's simpler, and not too big to download. However, if you want JUST the second chapter, feel free, you may download it here or there.)
Leave a Reply