Uncategorized
August 30th, 2010
My "only full tanks day after day" streak continues, thanks to a recommendation from H9E, that makes it 20 complete mangas in a row, yowza !

The drawings are the ecchi type, the scenario is ambitious and the end is… abrupt !
Graphically, this is very sweet with even sweeter nipples and female faces, with a both juvenile and lustful expression, even if – without a joke on the vampires theme – I've grown considerably hungry for hardcore sex when I was reading it. The scenario is very detailed, a story about vampires, demons and female humans following the hero building himself a harem of fighting and sexual followers. Happy sex all the way, no tentacles-based mind-break rape, surprising, isn't it ?
By Satoshi Urushihara, I also share the excellent hentai movie Front Innocence, and also (OMG ! The links aren't dead !) Lady Innocent and Ragnarok City.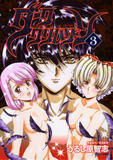 (There are more illustration pictures below, scroll down)
Volume 1 : Gallery Link – Backup Gallery
Volume 2 : Gallery Link – Backup Gallery
Volume 2 : Gallery Link – Backup Gallery
Download the 3 Hentai Mangas bundled in a Zip file
(180 MB, 724 pictures, English)
(please, is there a chance you can use the depositfiles link ? That will generate a tiny bonus for me, thank you very much if that's possible for you ! )
Or you can also use the Alternative :
Zip Mirror #1 – or – Zip Mirror #2
Grrrmbl, I forgot to note during my reading session who to credit, I had to browse the mangas again for the info. There we are, my great thanks go to Megaflare and Dmp2k (volume 1), Brolen and Lunatic (Volume 2), and Kizlan and Lunatic (volume 3), with also H9E for the suggestion and the links to the place hosting the volumes
Leave a Reply